Volvo Industrial Generator Imported from Europe 100%
Volvo is a brand from Sweden and a famous generator type with powerful, fuel-efficient and environmentally friendly engine. Volvo generators are imported in complete sets from Europe, providing a powerful and superior power source when used for backup or main power.
Onis Visa– Italy assembly brand, model V415B
– Engine: Genuine Volvo Penta, made in Sweden
– Alternator: Genuine Stamford – Uk, made in UK (option: Mecc Alte – Italy)
– Controller: Genuine ComAp – Czech, made in Czech Republic.
Standard Accessories Attached to The Volvo Generator
Large fuel tank helps the generator can operate continuously for 8 hours.
Easy and convenient starting battery is accompanied by battery charger.
The cabinet protects the alternator to prevent scratches.
There is cooling water, lubricating oil and anti-caking solution included with the machine.
Volvo 400kva Industrial Generator's Canopy
The canopy structure is sturdy, can be moved by crane truck, forklift or manual roller.
The entire ceiling wall of the canopy is soundproofed with specialized soundproof foam.
Volvo Industrial Generator's Engine
Diesel engines are designed to excel in performance and operation time, meeting industrial emissions standards.
Volvo Industrial Generator's Alternator
Volvo industrial generators use alternator Mecc Alte – Italy or Stamford – UK which are the two leading generator manufacturers in the world.
+ Increase the quality of power production, ensure the safety of power consuming equipment.
+ Safety for operators and meet the comprehensive ICE standards.
Industrial Generator Volvo's Controller
Using the intelligent controller imported from ComAp – Czech, it is easy to operate and protect the generator in case of emergency.
Automatically start and supply power within 20 seconds after receiving the power failure signal.
There is also synchronization function to synchronize up to 36 generators (additional cost).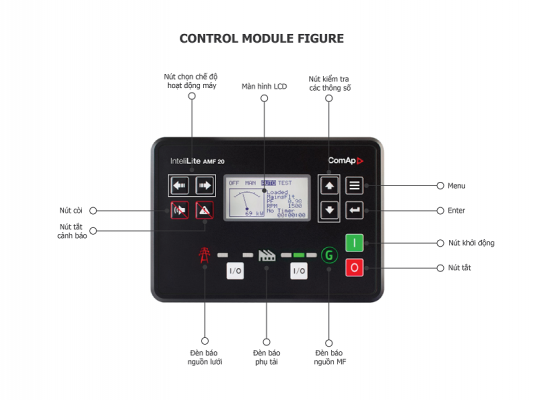 Currently on the market, there are many suppliers providing Volvo generators, there are a number of generators using Volvo engines but the accompanying accessories are processed in factories in China, others with imported complete gensets. It is difficult to distinguish genuine goods from fabricated goods, so customers should choose reputable companies with certificates of origin. Hung Phat JSC is one of the leading enterprises in the field of industrial generators, we supply generators imported completely from the manufacturer. We provide generator 's design, installation, flexible warranty, 24/7 service.