Doosan industrial generator is one of the best choices to help customers save the budget of their businesses as well as their families. Hung Phat JSC is a company specializing in providing genuine Doosan generators in Vietnamese market. Doosan generators with diverse models suitable for families as well as companies to help customers have plenty of choices when choosing generators.
Doosan industrial generator is a product originating from Korea, belonging to Doosan Group with many outstanding advantages in terms of capacity and emissions.
Doosan Generator Series Introduction
Doosan Infracore Corporation was established in 1937 as a corporation specializing in manufacturing leading generators and generators' engines in Korea.
In 1958, Doosan Generator Company successfully manufactured Diesel engines. Doosan engine and generator manufacturing facility is located in Incheon, South Korea. In 1979, it came into operation under the license granted at Isuzu technology.
In 1988, Doosan generators added a section of natural gas engine to give customers more choices.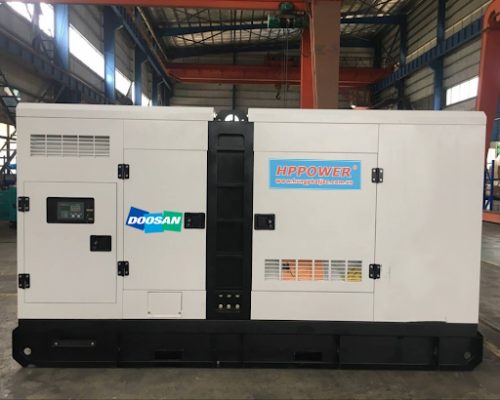 Doosan Industrial Generator's Engine
Doosan engines are produced following to strict standards, and before being shipped, they must undergo a rigorous testing process for product standards and quality to ensure all gensets are operated smoothly as well as with the least fuel consumption.
The durable Diesel engine integrated with turbocharger to increase the power of the Doosan generator with the lowest energy consumption. This Diesel engine used around the world is one of the affirmations for the prestige of Doosan industrial generators with top-notch brand and quality.
Doosan Industrial Generator Alternator
Doosan generator lines use AC alternators of many leading brands in the world such as: UK Stamford alternator, Italian Mecc Alte, French Leroy Somer, etc. This is safe for equipment and load consumption and ensure highest electric current generation.
Doosan Industrial Generator Controller
Doosan industrial generators use an easy-to-use, user-friendly LCD display and integrate auto power switching and other standard features.
Having protection mode and power off in case of emergency.
Having warning function about engine temperature, overload parameters, oil pressure and engine speed, ect.
Display all the basic parameters of the generator such as: temperature, oil pressure, battery voltage, load current, load capacity, output voltage, etc.
Doosan generators are manufactured according to international standards for silencers. The soundproof layer is used glass wool or foam to provide good sound insulation in case of full capacity or located in densely populated areas.
In addition, Doosan generators provide customers with a number of control panel options when choosing generator' s configuration.
Structure of Base Frame, Size, Weight And Soundproof Canopy Of Doosan Generator
Base frame structure: Doosan generator has iron and thick base frame system. The system of thick bearing corrugated iron helps the generator not be shaken when operating. The canopy is sound insulation, powder-coated to help the machine withstand even the harshest weather.
Size and weight: Doosan generators use Diesel engines with high loads, so the size and weight of the gensets are usually bigger than other units with the same capacity.
The Doosan generator's soundproof canopy is manufactured according to international standards for silencers. The soundproof layer is used glass wool or foam to provide good sound insulation in case of full capacity or located in densely populated areas.
Spare Parts and Accessories
When receiving a Doosan generator, there will be spare parts, components and documents accompanying with the genset including:
– Battery: depending on the type, there will be one or two 12VDC batteries
– Automatic battery charger (attached to the ATS cabinet).
– Test diesel oil, lubricating oil and cooling water (according to the Contract).
– Muffler.
– Fuel tank
– Exhaust pipe.
Genuine accessories help Doosan generators operate smoothly for a long time, giving users peace in mind.
Doosan Industrial Generator Operation and Maintenance Manual
Full documentation of the procedures for use, operation and maintenance of Doosan generator including:
– Documentation about functions of control panel and auxiliary switches.
– Documentation about proper and correct fuel
– Check, add and replace lubricating oil, coolant properly and periodically.
– Check the connection and capacity of the battery.
– Documentation about general inspection of generators before operation to ensure safety for users and equipment.
– Instructions for replacing air filter, oil filter, lubricating oil filter
– Etc.
– Each model uses a different type of engine, alternator, control panels, and designs, so the detailed instructions for use will not be the same. Therefore, our consultants will provide specific information to customers when using Doosan generators.
Advantages of Doosan Industrial Generator
Fuel saving: Because Doosan industrial generators use Diesel oil, they save 30-50% of fuel compared to models running on gas or gasoline.
Safety design: Good bearing capacity, no vibration when operating. The powder-coated shell helps users rest assured in harsh weather conditions.
Smart Control Panel: User-friendly smart control panel with modern features.
High durability: One of the special features of Doosan industrial generators is that it does not need regular maintenance but still ensures the normal operation of the machine.
Doosan Generators Brings Excellent Benefits to Users
Doosan industrial generators, like many other generators, generating power to help machines and electrical equipment operate to meet the need of household and businesses.
Generators also provide electricity for remote areas, islands, etc.
REGISTER FOR CONSULTATION