Introduction of Perkins Industrial Generators
Perkins is a UK supplier of Diesel and Gas engine systems, and established in 1932 in the British eastern city of Peterborough. Since December 1997, Perkins has been part of Caterpillar, becoming the world's largest diesel engine manufacturer.
Perkins industrial generator is a product with long history, originate from the UK, and is one of the famous generator lines on the market today. Perkins generator products are widely used in the fields of industry, construction, agriculture, etc. with power ranging from 4-2000kW (5-2800hp).
Perkins Industrial Generator's Engine
For more than 90 years of establishment and development, Perkins has always been known as one of the top diesel generators with the most durable and lowest energy consumption in the world.
Perkins Industrial Generator's Alternator
Perkins industrial generator system uses many leading engine brands in the world such as: French Leroy Somer, Italian Mecc Alte, UK Stamford, etc. to generate highest current and cost saving.
Perkins Industrial Generator's Controller
+ The control panel of the Perkins industrial generator uses a user-friendly LCD screen that integrates many standard features.
+ Display all technical parameters such as: load capacity, output voltage, load current, battery voltage, etc.
+ The display warnings about parameters such as: engine temperature, oil pressure, engine speed when overload, etc.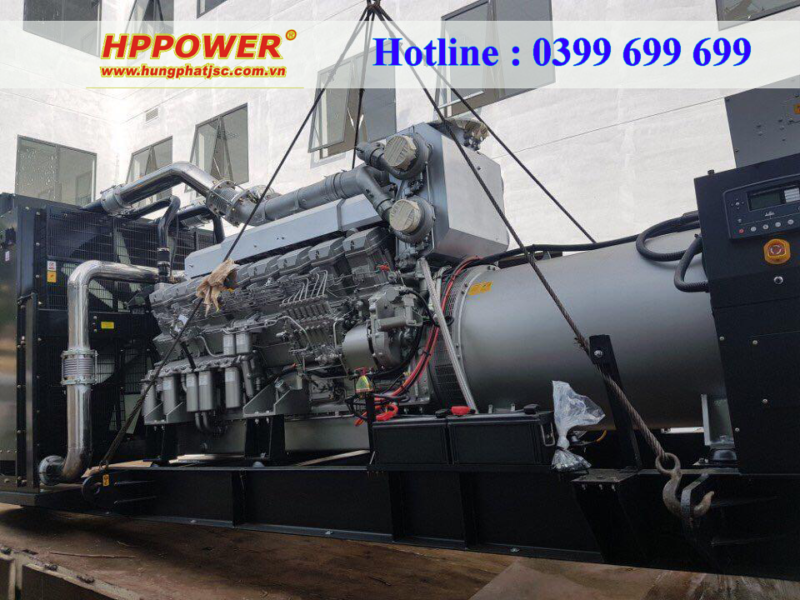 Base Frame Structure, Weight, Size and Soundproof Canopy of Perkins Generators
The generator is equipped with anti-vibration rubber to reduce shock. The thick base frame using good bearing corrugated iron helps the generator not be shaken when operating. In addition, the Perkins generator also has an international standard soundproof canopy, powder-coated corrugated iron to help the machine withstand harsh weather when the machine placed outdoors.
Spare Parts and Accessories for Perkins Industrial Generators
When handing over the Perkins generator, there will be components and related documents attached to the generator including:
Battery: depending on the type of generator, there will be one or two 12VDC batteries.
Automatic battery charger (attached to ATS cabinet).
Test diesel oil, cooling water and lubricating oil (according to the contract).
Fuel tank, muffler.
Manuals for Generator Operation and Maintenance
Each generator uses a different engine, generator, design and control panel, so each genset has a separate user manual. For Perkins generators, documentation includes:
+ Instructions to check the overall generator system before operation, to ensure safety for users and generators.
+ Instructions for replacing the air filter, lubricating oil filter, oil filter for the machine, supplement or replace coolant, lubricating oil properly and periodically.
+ How to use the auxiliary switches and functions on the control panel.
+ Supplement the proper and correct type of fuel.
+ Instructions for checking the electrical connection and battery capacity.
Distributor of Reputably and Genuinely Imported Perkins Generators.
With genuine imported generator system, clear origin, Hung Phat JSC always provides customers with the best quality generators. The company transports, installs and tests the machine before handing it over to customers for use. With long-term experience in the field of generators, Hung Phat company is always a reliable supplier for customers in all provinces.
REGISTER FOR CONSULTATION